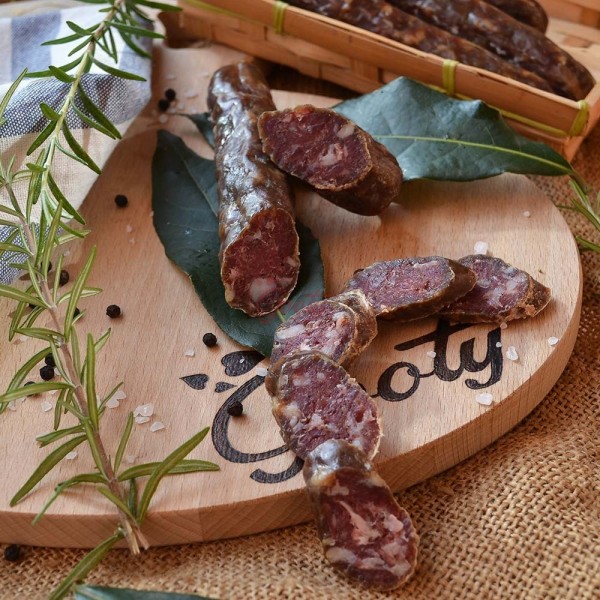 View larger
Boar cigars of Cilento
"Cigars" with strong and distinctive taste, made with boar meat raised in the wild within Cilento National Park whose free nutrition and free wandering guarantee a product with a unique flavour.
2 Item Items
In Stock
Warning: Last items in stock!
Availability date:
More info
Tradition
According to the tradition, Felitto village was founded by Enotri around the fifth century. B.C. However, there are no historical evidences to support this thesis. In effects the first documents that attested the life of the settlement are dated around the year 1000 in the form of acts of buying and selling land.
The toponym "Felitto" has several hypotheses of origin. According to Leopardi it could come from "Phei-ictus" referred to the abundance of trout fished in the river Calore, the waterway that skirts the rocky ridge where the village stands. A second hypothesis, from Greek, wants the origin of the word from the verb "Phiulatto" (watch, guard, monitor), indicating the shape of the old town perched on the rock, as a guard post easily defended with great visual of the territory.
Today, this village of Cilento, is characterized by the spectacle of the gorges of the river Calore, a splendid example of nature in the National Park, where sports such as hiking and canoeing are practised. The food and wine tradition, however, finds the maximum expression in the production of sausages and the famous fusilli, made according to ancient traditions handed down from generation to generation. Excellencies from unique flavour only to be enjoyed.
#History #Tradition #Gooty
Data sheet
| | |
| --- | --- |
| Origins | Campania |
| Place of production | Felitto (SA) |
| Producer | Azienda Agricola "Tenuta Barone" |
| Raw Materials/Breed | 100% of boar meat raised in the wild, salt, natural flavours, 0,1% E300 (vitamin C), 0.01% E252 (potassium nitrate), without allergens. |
| Storage | Vacuum-packed up to 10 months at a temperature between +6 and +10 ° C. Once opened keep refrigerated and use within 5 days. |
| Food combinations | Seasoned cheese, homemade bread, red wines. |
| Tasting | To best enjoy the consistency and the taste of boar meat, you may eat these cigars alone with bread or as an appetizer with strong flavour food as aged cheeses and full-bodied wines. |
About Azienda Agricola Tenuta Barone

The river Calore , the gorges and  the characteristic medieval bridge provide the setting to Azienda Agricola Tenuta Barone , located in Cilento National Park, one of the most beautiful places in the world . Quality of raw materials , tradition and passion are the hallmarks of the work of Antonio and Maria , owners of the company, now landmark of  Cilento area . The pigs used for the production are raised in semi-wild and feed with chestnuts , acorns and corn . All this contributes to produce genuine high quality meat according to ancient craft traditions.