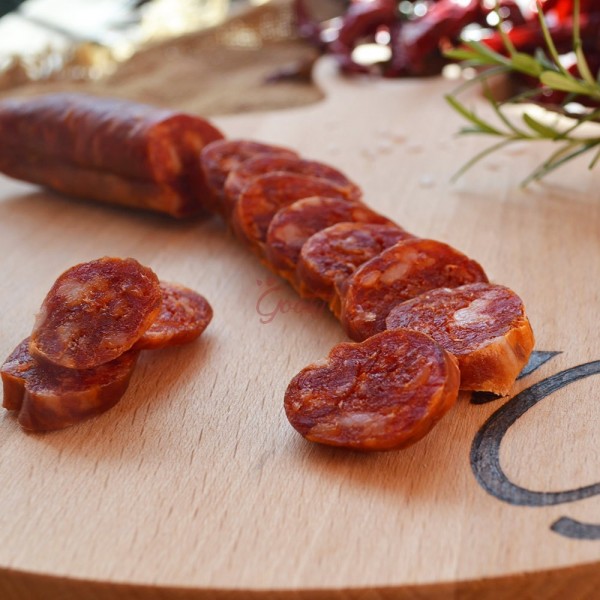 View larger
Red Sausage of Castelpoto
The Red Sausage of Castelpoto is red colour more or less dark with orange spots depending on peppers powder concentration. Sweet or piquant flavour (depending on the pepper) with notes of fennel, followed by a stronger taste and persistence of meat.
5 Item Items
In Stock (Dispatched on Monday and Wednesday)
Warning: Last items in stock!
Availability date: 01/04/2016
More info
Tasting
To best enjoy the extraordinary characteristics of Red Sausage let the product rest to air after opening the vacuum, for at least 10 minutes. It can be served as an appetizer with medium-aged cheeses and homemade bread, all accompanied by a full-bodied red wine, such as Aglianico del Taburno DOC or Taurasi DOCG.
Tradition
Castelpoto has probably Roman origin. The presence of perennial water sources and large flat areas made it a desirable place. The toponym seems to come from "Castrum Potens", the ancient Roman settlement nucleus. Others are inclined to see the medieval origin, exactly from "Potone", a grandson of Prince Radelchi Lombard Duke of Benevento. Archaeological evidence such as Etruscan pottery, tombs and a hoard of coins date back its origin.
Among the findings stand out numerous votive inscriptions named after Juno and Hecate Trivia, both deities of fertility and agriculture. Gastronomic characteristic of Castelpoto is the preparation of a hot peppers powder, the "papauli" in the local dialect, used as a spice in almost every dish of the local tradition. The crushed peppers are toasted in wood ovens and then infused with garlic, salt and wild fennel. Suitable for health ,strong stomachs it has helped to create a great product, when it was joined to the meat of pigs of Cilento. The renowned Red Sausage is the result of handmade processing of ancient blacks of Caserta, reared in the natural Sunni climate. The feeding of these pigs is governed by strict rules that guarantee the authenticity and quality of the product.
#History #Tradition #Gooty
Data sheet
| | |
| --- | --- |
| Origins | Campania |
| Place of production | Castelpoto (BN) |
| Producer | Azienda Agricola di Carmelina di Gioia |
| Raw Materials/Breed | Piebald pig, hot or local sweet peppers powder, garlic, salt, wild fennel. |
| Seasoning | 2 months |
| Storage | Vacuum-packed up to six months. Once opened it is recommended the consumption in 5-7 days. |
| Food combinations | Seasoned cheeses, homemade bread, full-bodied red wines. |
About Azienda Agricola di Carmelina di Gioia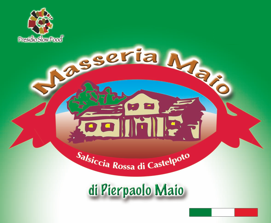 In the district Ciesco Romaniello, surrounded by lush land, Mrs. Carmelina Di Gioia and her family produces one of the best artisanal cured meats in Campania. Visiting the company you fill like home and you are greeted like family members. The warmth and hospitality in Campania are transmitted in the care for the product in all its aspects, from production to tasting in accordance with the ancient traditions of craftsmanship.
Awards

SLOW FOOD
Designed as slow food product to protect it from extinction and to value it as belonging to the culture, the history and tradition of a place.