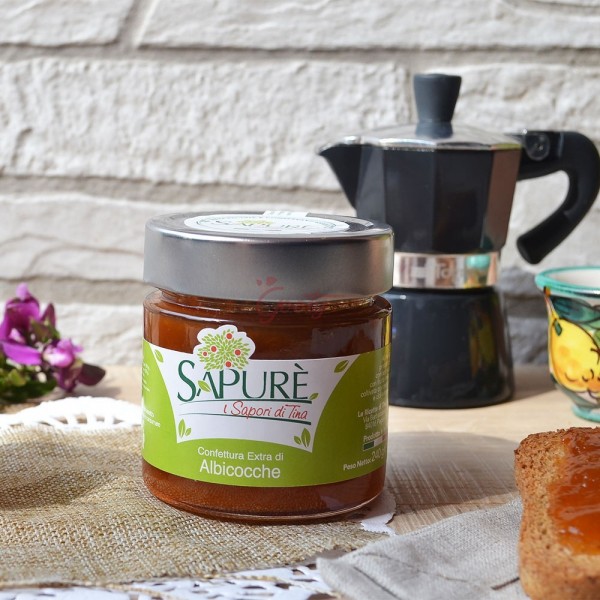 View larger
Apricots extra jam
The best apricots in Campania region will delight your palate with this extra jam, made in a traditional way with the freshly harvested fruit having reached the perfect ripening degree. Sweet and aromatic, rich in vitamins and nutrients. Taste it on a slice of bread with a veil of butter, just like we did as children.
0 Item Items
This product is no longer in stock
Warning: Last items in stock!
Availability date:
More info
TRADITION
An area inhabited since prehistoric times, the Agro Sarnese Nocerino played host to many peoples throughout history. Virgil and Silio Italico identify among the first inhabitants of the plain "Sarrasti", a tribe considered descended from the mythical Pelasgians that around 1600 BC came from Greece and colonized the South of Italy. Other authors, including the philosopher Aristotle and historians Polybius and Antiochus of Syracuse attest instead the presence of Opici in this area since the beginning, then overwhelmed and assimilated by the tribe of strain Osco-Umbrian, as precisely Oscans.
The plane then saw alternation of Etruscans, Samnites and Romans, all contending for the fertile land that still produce food of unparalleled excellence. Many of the historical cities were important centers, rich in history and traditions. Just look at Nocera, the ancient Nuvkrinum Alafaternum then known as Nuceria Alfaterna, center pivot of Agro then as now.
In the centuries after Christ there was a strong Byzantine presence in the area, who was succeeded by the Lombard principality of Salerno and the Norman. The residential areas of the centers of Angri, Scafati, Roccapiemonte etc. were formed next to the oldest Nocera and Sarno.
NUTRITIONAL INFORMATION PER 100G OF PRODUCT
Energy (kcal) 155
Energy (kj) 655
Fats (g) 0,0 of which saturates 0,0
Carbohydrates (g) 38 of which sugars 34
Fibres (g) 2,5
Proteins (g) 0,0
Salt (g) 0,07
Data sheet
| | |
| --- | --- |
| Origins | Campania |
| Place of production | Pagani (SA) |
| Producer | Sapurè Srl |
| Storage | Keep in a cool place and protected from light, once opened store in the refrigerator. |
| Ingredients | Apricots, sugar. Used fruits: 90 g per 100 g of finished product, total sugars: 55 g per 100 g of finished product. |